Friday, June 8, 2012
Friday was our last day in Ethiopia; our plane left that night at 1:00am. We woke up and ordered pizza delivery for breakfast, which ended up being closer to lunch. My friend went off to work and we prepared to spend our last day visiting the Mercato, which is the biggest market in Africa, and shopping for souvenirs. My Friend (and most of her friends) had never been to the Mercato, though it is famous for pickpockets and purse snatchers. We decided to take a taxi there so her car would be safe, and had ourselves a little adventure into the poverty stricken region of Addis. The Mercato is definitely not the tourist destination of the city, and isn't even a place to really buy souvenirs. Instead, it's a market for the poor of the city to buy everyday things, like clothing, mattresses, even linoleum flooring. We walked up and down the streets, getting a feel for the area and protecting our belongings. People were definitely staring shamelessly at us, and shouting at us as we passed. There were no other white people that we saw, and the streets were overrun with overflowing garbage bins and even dead cats and chickens in the middle of the street, creating an overall stench that I imagine is similar to rotting corpses. It was not the most pleasant experience, and we quickly left after walking down a few streets.
View down one of the streets in the Mercato
Instead of shopping at the Mercato, we decided to hit up some high end shopping malls to find souvenirs. We were fairly successful, finding a little something for almost everyone in a string of shops located in the top floor of the mall all owned by the same person. However, we needed to buy one or two more things, so we continued the shopping hunt. While we were at the mall, my Friend got a call from work and had to visit her workshops, so we left to see some of the places where she worked throughout the city. The company villa was near one of the workshops, and my Friend took us to see it. Fabulously large and, of course, gated, we took a tour through the massive, empty maze of a building. Some of the highlights include these wonderful light fixtures that spun like disco balls, a sauna room, multiple balconies, and a shower in the master bathroom that looked like a machine from the future with multiple jets and knobs and buttons! I kept saying, "Oh my gosh, there's MORE?!" because the house just kept going on and on...if you look at the photo below, the villa extends back about 5 times the width you see here. HUGE!!!
The front of the villa was too big to get in one photo!
View from the third story
This was an amazing disco light of awesome!
Todd checking out the front of the villa
In the afternoon, we headed back to the apartment to pack up all our things and put them in the car since we would spend the rest of the evening out and then head straight to the airport by 11:00pm. We decided to finish souvenir shopping at the Hilton, and after some success, I still hadn't gotten any souvenirs for myself! The last place to check was the Sheraton, and we would be meeting the Godfather and his Henchmen there for the evening anyways, so it was worth a shot.
The Sheraton in Addis Ababa is basically a glorious palace. It is absolutely nothing like the Sheratons you find in the US. I'm mad that I didn't take any photos! The inside was all polished with fountains, sweeping staircases, columns, and balconies. The epitome of a 5 star establishment! We headed to the row of boutique gift shops, where I found a beautiful silk scarf that has images of the windows I liked so much at Lalibela, designed by a well-known Ethiopian designer. The scarf was exorbitantly priced, but this was my last chance to buy a souvenir!
After shopping, we went down to the bar to order some finger food and drinks. The Godfather and his Henchmen were there, and it was a happy reunion. I was still feeling ill, so I drank 7up and nibbled on some mild eggrolls. A live band from Atlanta was there performing covers of popular American songs like Michael Jackson and Rihanna, and it was another occasion I would have definitely enjoyed immensely had I not been so sick.
The Sheraton, photo courtesy of ESDP
The Sheraton, photo courtesy of Addis Ababa Online
Pool bar at the Sheraton, photo courtesy of Starwoodhotels.com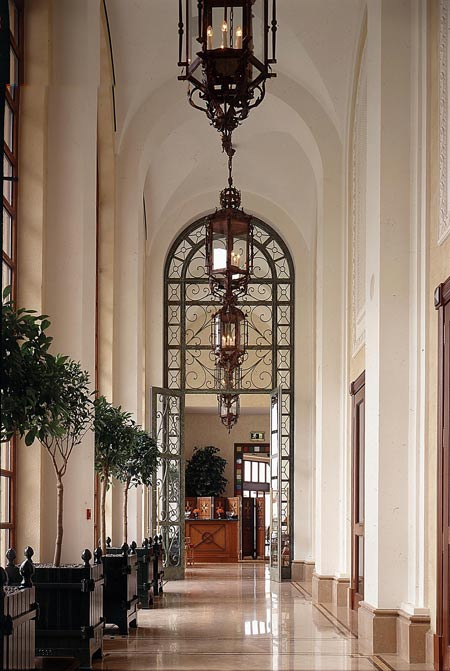 Inside the Sheraton, photo courtesy of Five Star Alliance
At the Sheraton
I like how I'm making a funny face, and the girl behind me is totally posing.
No idea who she is.
We headed straight from the Sheraton to the airport, riding in the Godfather's brand new Porsche SUV with a glass ceiling and sound system that is better than most nightclubs'. If we were scared for our lives driving regularly in Addis, driving with the Godfather was terrifying! He drove so fast! But it was actually quite fun, and I never felt unsafe. We got dropped off, and checked in, having numerous lines to wait in at the airport: the initial security line, check in line, immigration line, another security line, a line to have our tickets stickered at the gate. Then we learned (around midnight or 1:00am) that our gate was being changed. We had to head to a new floor, all moving in a mass exodus of exhausted travelers, and had to wait in another line to get on a bus shuttle, and another line to get on the actual plane.
The plane ride was uneventful, though I did note that even on a flight from 1:00-7:00am when you would expect to be sleeping, Ethiopian Airlines insists on feeding you as if it were a regular day—oh look! It's 3:00am! Must be time for dinner! Our layover in London was short this time, but I was feeling just as bad from my stomach bug. We stayed in the airport, eating a lunch provided by various airport retailers, and we even saw some people who are in a band that Todd likes. The plane ride from London to San Francisco was elongated by my illness and anxiousness to be home, but was otherwise uneventful and we landed in the afternoon on Saturday, June 9th.
View of England from our plane!
My stomach bug lasted until Monday, but I had plenty of time to rest and recuperate. Life is now back to normal, and I hope you have enjoyed reading about our African Adventures!